When preparing for a trip abroad, there's plenty more to consider than just which flights to book and which hotel to stay in. There's what to wear too, and every country has its own dress codes, some more strict than others. Here are some tips on what to wear around the world.
In the Middle East
Dressing conservatively is a good general rule to follow when visiting anywhere in the Middle East where countries have very strong religious beliefs. Women in particular should leave their miniskirts, vests, even shorts, at home. While it may not be against the law to dress like you would at home, you'll be happy not to be harassed constantly by men while walking down the streets. Here are some more country-specific rules to follow:
In Qatar, it is forbidden to wear tight or transparent clothing along with other so-called indecent dress defined as "not covering the shoulders and knees."
In the United Arab Emirates, nudity is strictly forbidden at the beach. In most shopping malls, shoulders and knees should be covered. While the Emirates are keen to attract Western tourists, it's not unheard of for tourists to be slammed with fines for inappropriate dressing.
Saudia Arabia is perhaps the leader in dress code restrictions in this region. Saudi Arabian women must wear a niqab outside as it is forbidden to expose bare skin. Tourists are recommended to dress very conservatively, doing their best to wear long trousers and tops that cover their shoulders and chest area. As for men, cross dressing is against the law.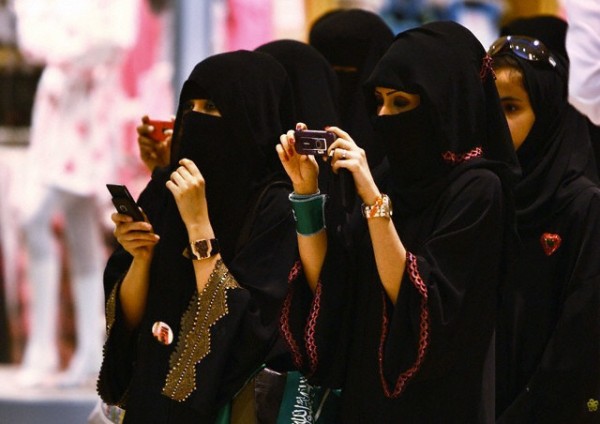 In India
In Goa, it's totally okay to wear a swimming costume at the beach resorts but when you're not sunbathing on a lounger, it's recommended to wear a sarong and a t-shirt. Men should wear a long shirt when off the beach.
In Europe
Catching cheap flights to Rome? Vatican City requires everyone to wear a shoulder covering and skirts or shorts to the knee when entering museums and churches. If you're in the Italian Riviera, make sure you don't just roam the streets in your bikini, cover up before leave the beach area, especially in Lerici. Further south, in Castellammare di Stabia, south of Naples, women can be fined 300 Euros for wearing mini-skirts, low-cut jeans or showing too much cleavage!
If you're visiting Athens, leave those high heels at your hotel because they're forbidden in and around the Acropolis and many other ancient locations due to such extensive damage cause by heel-wearing visitors in the past.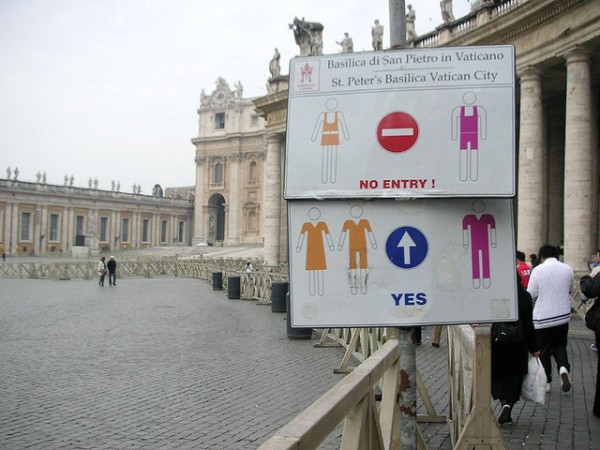 North Korea
We've written a lot about visiting North Korea lately but before you book that trip to Pyongyang, make sure you know what to pack. In North Korea, men are supposed to trim their hair every 15 days but older men can let theirs grow a bit, in order to cover up any bald spots. Men are permitted a maximum hair length of 2 inches. Women are not permitted to wear trousers and an infraction could see them sent to a labour camp in the country's far north. It's serious business there, and while the rules are slackened for tourists, it would be a good idea for guys to give that mop of hair a clean-up before you go and for ladies to pack a few long skirts.
If you're unsure about what to wear in a new culture, check on gov.uk for travel advice, or ask someone who has been there before. You can also ask the hotel at your destination.
Imgs:
42-23392399, dearbarbie

 / Flickr cc.