With news that Bansko has been named the cheapest family ski resort in Europe, coming out a third of the cost of the most expensive resort in the Alps, it's no wonder so many British families are planning flights to Bulgaria for their ski trips this year. Here's how to do it.
According to new research by Ipsos Mori, Bansko in Bulgaria is the cheapest family ski resort in Europe this season. A family of four can enjoy a one week holiday in the resort for £1,631 (not including travel but we can assure you there are plenty of cheap flights to Bulgaria to be had). This is a bargain when compared to a week-long sojourn at St Anton in Austria where a week would set a family back a handsome £5,026.
The research compiled the average cost of a week's hotel accommodation, equipment hire, lift pass and lessons, as well as the cost of dinner and drinks for one week. Good to know though, before you book that trip over Christmas, is that these prices don't include peak weeks which include the days between Christmas and New Year's as well as February half term which can see hotel prices double.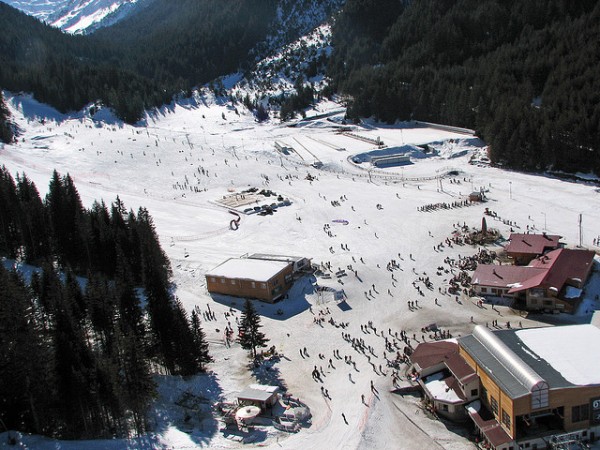 Have your eyes set on a ski trip in Bulgaria? Here's how to plan:
Plan early. Now is the time to book your trip if you hope to snag any sort of deals at hotels and resorts. Avoid travelling during peak times like Christmas and mid-February during half-term when both flights and hotels increase in price.
Pack wisely. Make sure you have the right kit for your ski holiday including ski clothing, gloves, goggles, sunglasses and a warm hat. Some of these things you can hire when you arrive in Bansko but it's good to confirm before you go.
If the kids are coming along, book their ski lessons in advance. Even if they are seasoned little skiers, a refresher is always good before hitting the bunny hill and easier slopes.
Check the snowfall levels before you go. If it turns out to be rubbish conditions on some days, what other things are in the area that you could experience? Make a list of some possible day trips or sights you might like to see if either conditions are poor or you want a rest from the slopes.
Brush up on a few words of Bulgarian or pick up a phrasebook before you go. While most Bulgarians you'll meet along the way, especially staff at the resorts, will speak English, it's a good idea to know a few phrases before you go.
Where are you headed for ski season this year?
Imgs: nachomc, rilindh / Flickr cc.