There's nothing better than being able to explore your dream destination at your own pace. Hiring a car is a great way to do this: you're not restricted by transport timetables and you can go anywhere a road will take you!
Hiring a car is easy and can be extremely cost effective at the same time – so what are you waiting for? Pack the cool box and hit play on that essential travel soundtrack. It's road trip time.
Essential information
Know the law
Road laws vary from country to country and it's easy to get caught out. Make sure you're aware of essential information such as speed limits, road sign meanings and how much you can drink before driving. You may also be required to carry certain items with you when hiring a car abroad: take France, for example, where all cars must carry a portable breathalyser.
The legal driving age varies from country to country and you'll need to be aware of this before you consider hiring a car abroad. For example, when hiring a car in the US most companies require you to be at least 25 years old.
If you want to hire a car in Europe, the age limit varies: in countries like Austria, France and Croatia you'll need to be 18; hiring a car in Greece, Ireland or Spain requires you to be 21.
Know your licence
When hiring a car within the European Union and in Switzerland, you can use your Great Britain (GB) or Northern Ireland driving licence.
When hiring a car outside of the EU, chances are you'll need an International Driving Permit. This costs £5.50 and can be obtained from the AA, the RAC or the Post Office. Applicants must be over the age of 18, have a valid driving licence and be a resident of Great Britain or Northern Ireland.
Tips and tricks
Book early
As with all modes of transport, it generally pays off to book your trip as early as possible to get the best rates.
Consider the best pick up and drop off locations
Choosing the airport or train station as your point of collection and return is often the most practical option. Will you be returning the car to a different location? Notify the company in advance. It's also possible to return your car in a different country to that in which you collected it, however this often comes with hefty fees. Why not book cheap bus or train tickets to travel between countries instead?
Know what you need
Do you need four doors, or two? A lot of boot space or a zippy little two door option? Consider practicality over style when deciding on which hire car to go for. This is a good tip not only because you'll appreciate a car which suits your needs way more than one which looks good, but also because the chances of you getting the exact car you choose are pretty slim. So pick practicality and the one you end up with will be closer to your needs!
Read the small print
It's the boring yet essential part of any transaction: we recommend going through it before you travel to make sure you don't get caught out at the last minute. Be aware of what exactly is included in the price and also what you may have to pay extra for at the end of your trip. Can you take the car across borders, even within the European Union? Can you go off-road? What does the third-party insurance cover?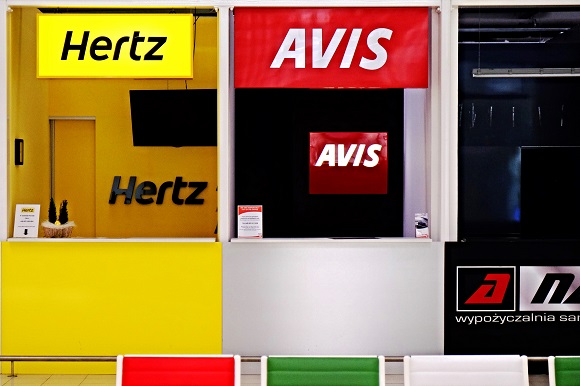 Make sure you have the correct documentation
This could include your passport, driving licence, International Driving Permit, travel insurance documents and proof of reservation.
Write down the contact info for the rental company
As well, a 24 hour emergency number for the company as well in case you break down or have any trouble with the car. Enter the number into your mobile so it's easily accessible in an emergency.
Check whether the car is petrol or diesel
Simple, right? You would laugh at how many times the wrong type of fuel has been put into the wrong type of vehicle. Petrol or diesel? Does the car run better on a premium fuel or not? It's also a good idea to check which side the tank is on for future reference and petrol pit-stops.
Before leaving, check the car thoroughly for damage
Report any scratches, dings and abnormalities to the rental agency BEFORE leaving. Make sure everything is noted down so you are not charged for someone else's mistakes. Before leaving the lot, it's also a good idea to find out where all the controls are, how to the lights work, wipers, etc.
Come back with the tank at the appropriate level
You should know whether or not you are supposed to bring it back full or empty. If you bring it back empty and it's supposed to be full, the car hire company will charge you a premium rate for the petrol needed to top up the tank. If you bring it back full when it's supposed to be empty, it's your waste and the company's gain. Before leaving, check under the seats, in the glove compartment, everywhere, to make sure you have all your belongings.
It may seem like a lot of work to hire a car, but it's really not. A lot of it is common sense that we need reminding of before we go on holiday! Are you heading out on a road trip abroad?