London has many faces, as everyone knows that's spend any amount of time there. It's a city of high regal palaces, historical abbeys, age-old river banks, world-renown art institutes and impressive churches. London is also a city of immigrants, social upset, graffiti walls and artists with opinions. Do you know Banksy's London?
Banksy, undoubtedly the most famous street artist in Britain, leaves his mark in big ways. He doesn't waste his time leaving pointless tags like the many other street artists that call London "home". Banksy is different and his spray painted murals create quite the buzz among city councilmen and the public. In recent years his works have become iconic symbols of London, so don't they deserve a place on London's top 10 sights for tourists? Is it defacement of property or art? He draws a fine line and crosses it without looking back.
Tour of London by Banksy
Unfortunately many of his works are covered over within a few months so many of his famous paintings can no longer be found. Thankfully he has a knack to painting in hard-reaching places, making it nearly impossible to crews to clean some of them up (especially on the South Bank). Another plus is that he is still painting London's walls, in disguise of course.
Take the alternative route through London's Hackney neighbourhood and see if you can find any of these Banksy paintings.
Start off at Old Street tube station and head down Old Street towards Shoreditch High Street
On your left-hand side is is an angel wearing a bullet-proof vest holding a skull just behind a "police enforcement cameras" sign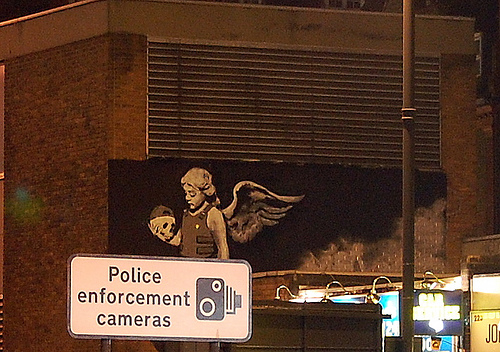 On the corner of Paul St and Old St is a giant rat, looking for dinner
On this same corner is a painted window with a television flying out of it
Continue down Old Street and take a right onto Charlotte street. You'll see someone has their own opinion about Banksy
At Rivington St take a left and continue down on Curtain Road
On the right-hand side is is a London police officer sniffing coke
Further down you'll see the word "faile" under which is a Banksy that's been covered
Directly across the street in a dirty doorway Banksy has also left his mark officially telling the city of London that this is a "designated picnic area"
Turn around and at Rivington Street turn right
On the left-hand side is Mona Lisa showing her back side
You will find Mona Lisa's frame on the opposite side of the street
Just past Rivington Pl is a designated graffiti wall, by order of of the National Highways Agency
At the end of Rivington St take a right onto Shoreditch High
Walk down Shoreditch High Street until Holywell Ln, take a right and then a left at Great Eastern St
On Great Eastern Street where Holywell Ln crosses, you will find a British soldier painting an anarchist sign on the wall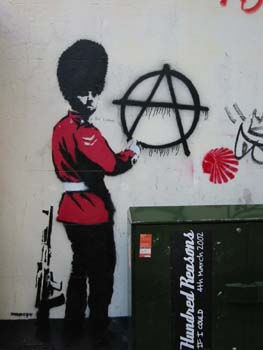 With many others to see, plan your route accordingly, loc.alize.us has a great map to follow. Street art is a great way to get into a city's head and add a little flavour to the usual sightseeing tour. Granada in the south of Spain has it's own Banksy, you can read about it on liligo.com's travel blog in Spanish, Discovering cities through street art.
If you're interesting in alternative London, check out The London nobody knows by Geoffrey Fletcher. The next time you're catching a cheap flight to London, make sure you keep your eyes open for Banksy, you'll spot his works in the least likely places.
What to do you think, is street graffiti considered art? Should London council be covering up Bansky's work? Have you spotted Banksy's work in London or somewhere else in the UK?