New statistics from the Civil Aviation Authority reveal the top destinations for UK passengers. So which destinations were our favourite last year?
More Britons flew to Germany last year than to either France or Italy, while long-haul United Arab Emirates was more popular for UK visitors than Portugal, Greece and Turkey. These are just a few of the stats pulled from the CAA's latest report on flight statistics from 2014.
Which country was at the top of the list? You guessed it, more Britons booked flights to Spain than any other country in the world. This southern Mediterranean country is still the most popular spot for British travellers, just about any time of the year. More than 34 million journeys were made to Spain in 2014, almost twice as many to the USA. Greece saw the biggest rise in visitor numbers, a 13.2% increase, while Australia saw the biggest decline, from 744,000 journeys to 488,000.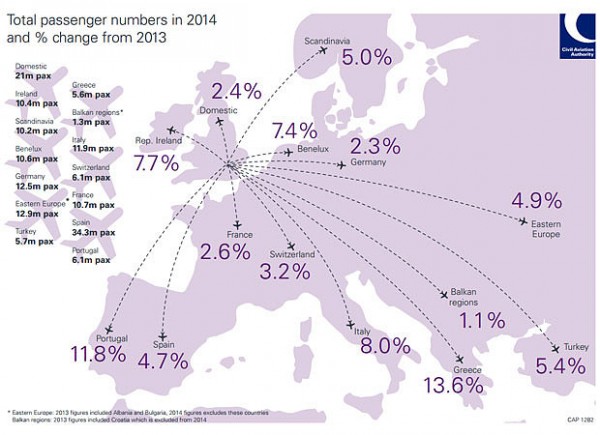 Which other destinations were popular among British travellers last year? Here's the top 10 according to the latest stats from the CAA:
Spain
USA
Germany
Italy
France
Ireland
Netherlands
UAE
Portugal
Switzerland
Img: marcohk / Flickr cc.