2017 is well behind us and it's time to take stock of the travel trends of the past year. We took a look at our data to see what the top destinations for liligo's UK users were.
Liligo.com is a search engine for travel prices and is rapidly expanding in the UK. For this study, our data experts took a close look at over 187,000 searches launched on our UK website in the past year. We wanted to find out what our users' favourite destinations were and how this data compared to that of 2016. We also had a look at the destinations with the best value and the average duration of trips booked via the site.
The most popular destinations in 2017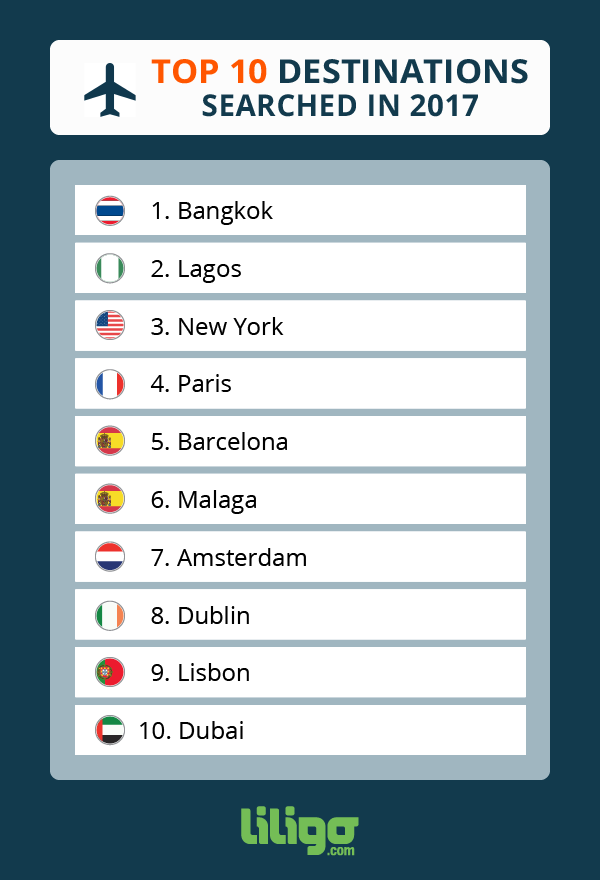 Our data held a big surprise: the top 3 most searched destinations in 2017 were outside of Europe. Indeed, Bangkok led the pack ahead of Lagos and New York City by a large margin, up from 5th place in 2016. Thailand has long been a premier destination for British tourists – in 2016, the number of visitors to the country from the UK first passed the threshold of one million (it feel just short of that mark in 2017).
The remainder of the list features traditional beach and city-break destinations in Europe. Still at number 1 in 2016, Paris fell to 4th place last year, with Barcelona, Malaga, Amsterdam, Dublin and Lisbon all in close range. Further behind in terms of absolute search numbers was Dubai, which, however, is one of the most stable destinations in our rankings – it came 10th in 2016, as well!
Best-value destinations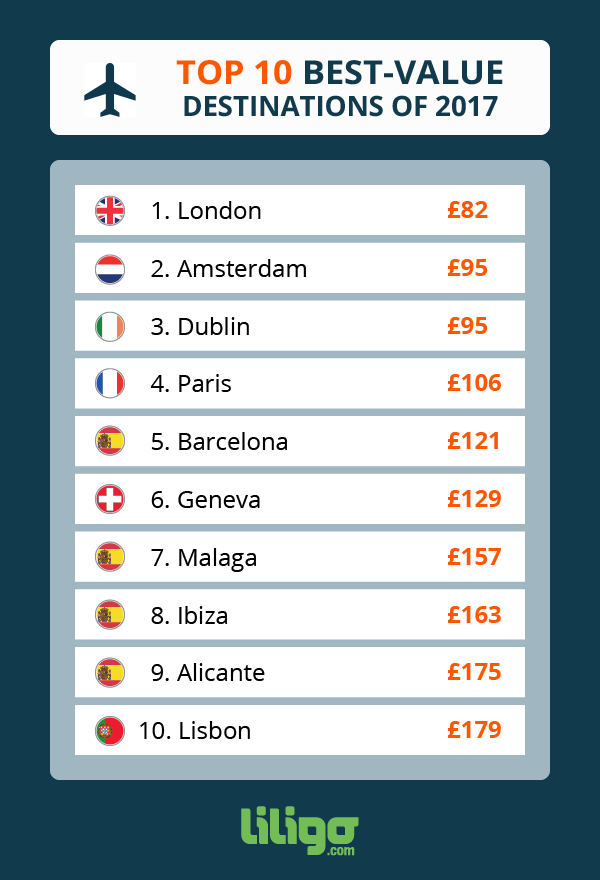 Our data experts not only ranked destinations by total searches, but also had a look at the average price of a return ticket to destinations searched on liligo.com. Unsurprisingly, all cities in this ranking are in Europe, with London leading the way: an average return flight to the capital set you back £82.
Both fans of city breaks and travellers who prefer lounging on the beach had a broad choice among the cheapest destinations. Average return flights to Amsterdam, Dublin, Paris and Geneva all stayed below £130, while trips to the Iberian seaside cities of Barcelona, Malaga, Ibiza, Alicante and Lisbon cost between £120 and £180. 
At £193, Marrakech was the cheapest destination overseas. In terms of price, our top search Bangkok came 22nd with an average return fare of £646.
Trip duration
Are you wondering how long people are staying at particular destinations? On average, a trip planned on our site lasted nearly 10 days in 2017. This figure was undoubtedly driven up by the high search volume for Bangkok, where the average traveller stayed for more than a fortnight – only Lagos (22 days) and Beirut (26 days) had a longer average trip duration.
Unsurprisingly, most European destinations remained under a week. With between 3 and 5 days on average, Geneva, Dublin and Amsterdam were favourites for short breaks. Check our guide to secret and unusual Amsterdam for some inspiration for your next trip!