Collaborative tourism continues! This new site, available in beta form, is kind of like the Airbnb of camping, where you can pitch your tent at people's houses. It launched last month and features campsites everywhere from private forests, ring roads, backyards to fields…
It can be hard to find a nice place to pitch your tent, especially in England with laws prohibiting wild camping. Wildlife are being squeezed out of their habitats, and campers are too, with fewer and fewer "wild" places to pitch tents for the night.
Campr aims to create a "community of campers" and to get travellers in touch with possible camping hosts. Using the site is very simple: search for a campsite by location, budget, availability and experience. Then you contact your host, book the place and pay for it through the site (prices are super reasonable!). Then off you go to enjoy your camping experience!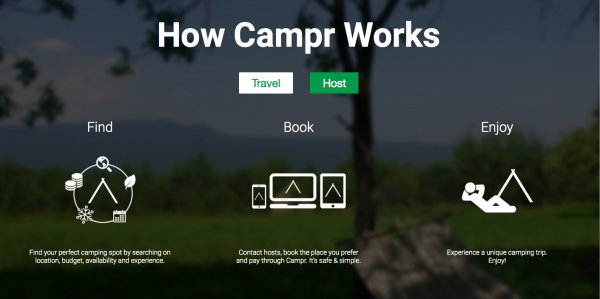 The site lets you find unique and original places to camp, even in a big city! There is nothing as dodgy as sleeping at a camp site on the edge of a city, with the motorway just behind you. This way you find a cosy garden to sleep in and get advice from hosts on where to go and what to see during your visit. Campr really is a happy mix of Airbnb and Couchsurfing, only you're sleeping outdoors.
What kind of camping experience are you after? Search for glamping, adventure camping, garden camping, something urban, something on an island, camper vans… even camp & breakfast (our personal favourite).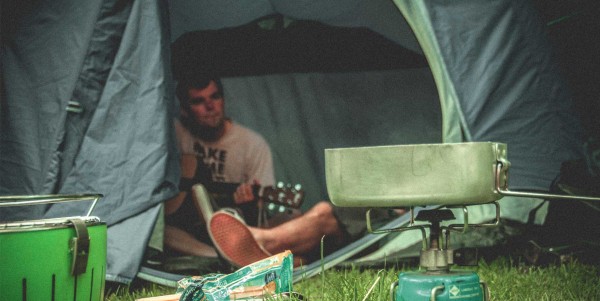 Currently the site offers 100 campsites in 25 different countries, from England to Croatia in Europe but also the USA and Australia. If the trial version is a success, you can expect plenty more destinations to pop up all over the globe. How about staying with Luca, a young Italian offering part of his garden in the centre of Rome (a good alternative if you can't find a cheap hotel in Rome), or even an Australian offering a unique experience in the outback.
Give Campr a try!
Imgs: Campr Facebook page