"Glamping" is a new catch-word in the travel conversation, for travellers who like the outdoors, spending time in the wilderness but who can't really imagine themselves unrolling a sleeping bag, pitching a tent, sleeping on uneven ground or cooking their meals over a fire. If "roughing it" is your worst nightmare, then glamping may be the best idea you've ever heard.
Eco-travel for the rich and luxurious-loving travellers is no longer a far cry from reality, now that glamping is around. Although some hardcore "leave-no-trace" campers mock the trend, it can actually be a very environmentally sound way to spend a holiday in the wilderness, without the backaches from sleeping on top of a stubborn root that wouldn't move over.
What is "glamping" exactly?
Glamping, a combination of glamorous and camping, is a new way of camping but for the luxury traveller. It's the best way to enjoy the great outdoors with the comforts of home. Exact accommodations range between yurts, teepees, caravan tents and other eco-pods some are fully equipped with electricity, and simple appliances like reading lamps while others offer guests a more simple experience.
A relatively new idea in England, Europe and North America, glamping has been around for decades in places like Africa and Thailand where Western travellers could come, stay in a pre-pitched tent and enjoy the luxuries of home in the middle of the dessert or jungle. Luxury resorts, safaris and camp grounds are picking up on the idea that travellers of all types still like exploring the wilderness, just some like it a little more cushy than others.
Where to go glamping?
Simply Canvas – Aquitaine, France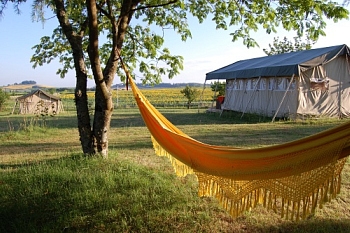 A dozen safari tents are set up on a 5 hectare camp just 20 minutes from Bergerac in the heart of France's wine country, not far from Bordeaux. Breakfast and dinner are served al fresco or in the barn if the weather doesn't cooperate. 6 tents have solar-powered lighting, separate bathrooms and small verandas. Open May-October. Tents (sleep four) are €100 a day or €560 a week, breakfast included. Dinner is €15 extra.
Altiplano Tipis – Andalucia, Spain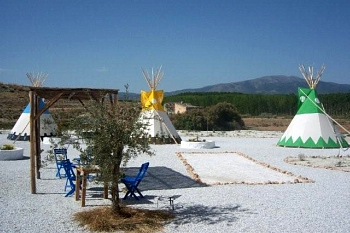 Small and intimate, this glamping site only has three tents surrounding a patio near the sea. Breakfast is served outdoors on the terrace overlooking the pool. Each teepee has a private shower. There are many nearby caves, one of which doubles as a studio apartment for rent. Altiplano Tipis are within an hour's drive from Granada and just minutes from Baza, a quaint shopping town. Open May-September. Teepees (sleep two) are €45 a night.
Chleire Haven – County Cork, Ireland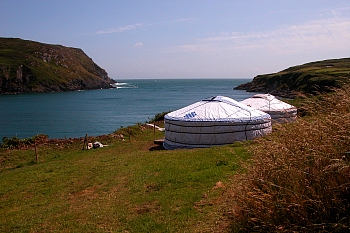 A 45-minute ferry ride from Balimore, Chleire Haven is located on the most southerly point of Ireland. There are four yurts which sleep up to 6 people, each with a wood stove, soft beds and cushions for sitting on the floor. There are communal showers and toilets. In the late summer around 30,000 birds migrate through the area. Open April-October. Yurts are €120 for two nights.
Bivouas Naamani – Ouarzazate, Morocco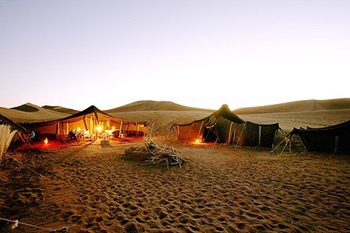 Just like in The Sheltering Sky, guests sleep in a desert camp site perfect for groups of friends and families. It's open year-round and sleeps anywhere from 2-10 people. Watch the stars at night around a blazing fire and explore the Sahara by day on camels or 4x4s. €28 per person, includes some meals.
Vintage Vacations – Isle of Wight, UK
Spend a week in a vintage American Airstream caravan just 10 minutes from Newport. Caravans are equipped with gas, electricity, water, AC and heating. There are nearby beach huts with toilets and showers. Each is decorated with vintage finds, it's a totally trendy place to be. The Isle of Wight is accessible by ferry only, from either Southampton or Portsmouth. Open year-round and sleeps 2-14. Rates start at £360 a week.
Hoopoe Yurt Hotel – Andalucia, Spain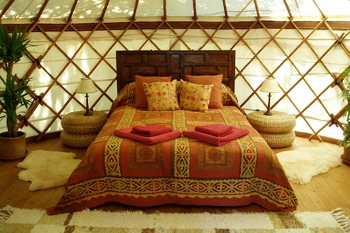 Located in the south of Spain, each yurt at this camp site has its own patch of meadow with plenty of shaded areas and hammocks. The Grazalema Mountains are in the distance and Ronda is just 30 minutes drive away, one of the oldest cities in Spain. There are 5 solar-powered yurts with private bathrooms. Breakfast is included. Other features include and outdoor cinema, swimming pool, yoga and massage sessions and an al fresco restaurant. The closest international airport is in Malaga. Open May-October. €120 per yurt (sleeps two), per night.
Have you ever been glamping? Do you like the idea, or would you prefer roughing it?
For more ideas of glamping destinations, check out the directory on goglamping.net!
Img: donnatomlinson / Flickr cc.