Our team aspires to provide you with the best user experience possible, whether you're using liligo on a desktop, laptop, tablet or phone. Our previous iOS app was showing some wear and tear, so we figured it was time for innovation.
At liligo, we believe planning a trip should be an enjoyable experience, and our new iOS app was optimized with that goal. Redesigned and with improved functionality, it's pleasing to the eye and more powerful than ever – and as easy to use as a toaster! From the comfort of your sofa or daydreaming at work, it's never been simpler to find the cheapest flight tickets. It will take you all but a few seconds to:
Search simultaneously for flights from hundreds of travel agency and airline websites, incl. 70 low-cost carriers
Sort the results with our smart filters
Purchase your ticket directly on the booking site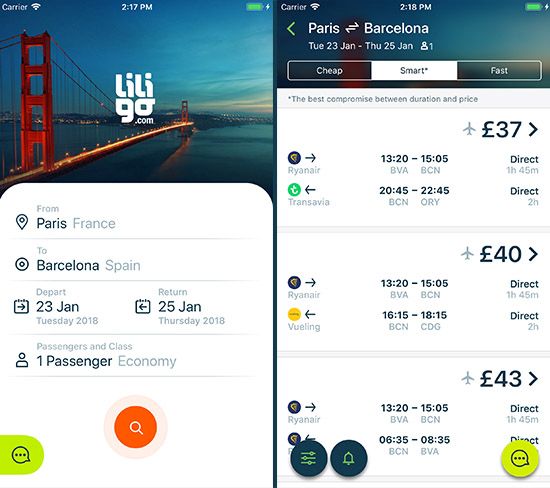 It's the little things that count
Our price alerts are a great tool to monitor the price of your favourite routes. Whenever those prices drop, you'll get a notification, making it easier than ever to snatch the best price.
Smart sorting is another handy little feature: it calculates the best compromise between price and trip duration. With us, you'll always know when it's worth having a slightly longer layover.
Of course we know how annoying it is when unexpected fees and charges drive up your ticket price at the end of a booking. That's why our prices are always final and include all fees and taxes.
And there's more!
We always strive to make this app as good as it can be and thus give you the best possible user experience. We'll soon add hotels and hire cars to our price comparison.
Android users
 certainly shouldn't feel neglected!
We're working on improving our Android app at this very moment. So, are you ready to take liligo on the road?