Google Street View offers curious visitors an insight into how a place looks, before they've even set foot in the area. The Street View cars, with their periscope cameras, have for 9 years been capturing images of streets in countries across the world. However, there's one area they've missed out which has taken matters into it's own hands. Welcome to the Faroe Islands.  
#Sheepview 
With almost 50,000 inhabitants and as a slightly difficult area to reach, it's at least partly understandable why Google hasn't yet sent any of their Street View cars to capture the beauty of the Faroe Islands. However, the enterprising islanders have found a way to share their home with the world: through Sheep View.
Sheep outnumber humans on the Faroe Islands and often roam freely across its landscape. Island local Durita Dahl Andreassen had the genius and adorable idea to put five of these sheep to work capturing scenes from across the Islands. Placing solar powered cameras onto these 5 woolly would be photographers, she then let them graze as usual whilst the camera took images of where they went, all the while transmitting them back to Anderassen's mobile phone! Check out the first 360 Sheep View video below.
The aim is to both promote the Faroe Islands as a destination, and persuade Google to come and cover the Islands in order to place them on the Street View map! To that end, a petition has been set up on the Faroe Islands tourism website calling on Google to come and cover the area – there's also a hashtag, #wewantgooglestreetview.
Dotted about the Islands, the sheep have already captured some stunning scenery which Andreassenhas uploaded to Google Street View – with sweeping green landscapes and blue sea views, it's easy to see why they think more people should visit the area! Grab your cheap flights to the Faroe Islands to head off and explore.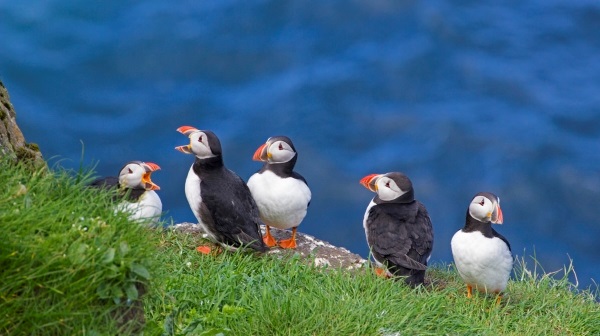 Fun Facts about the Faroe Islands 
There are almost twice as many sheep as people living on the Islands.
The 50,000 strong population is comprised of 77 nationalities!
There are just three traffic lights on the Islands – all in the capital city of Tórshavn, and all relatively close together.
There are no prisons on the Faroe Islands – this is because they send all of their prisoners off to Denmark.
According to the National Geographic, the Faroe Islands make up the world's most appealing island community – a title attributed in part to the friendliness of its inhabitants.

Travel Tips 
To visit the Faroe Islands, you may need a few vaccinations – check with your doctor if this applies to you.
Most places on the mainland accept credit cards, however more remote areas may only take cash so be prepared. The Faroe Islands use two currencies: the Faroese króna and the Danish krone, both of which are equally acceptable.
There's a well developed public transport system – you can even travel by helicopter!
The Faroese cuisine shows influences from nearby Denmark and the UK, but there are also a number of local Nordic specialties which should definitely be tried.
You can use your EHIC card in the Faroe Islands; however, we also recommend getting additional insurance – especially if you're planning a more adventurous getaway!
IMG:

_MG_2883

 by Frank Chan,

Puffins

 by Stefan Wisselink,

Gásadalur

 by Stefan Wisselink / Flickr cc.