There's a coffee revolution going on across the UK, with specialty coffee shops and independent roasters to be found up and down the country. Be a part of it – these are the places you need to visit for a quality cup of coffee.  
1. Edinburgh
Scotland's capital city is known for its beautiful architecture, cultural heritage and artistic atmosphere, with the Edinburgh Fringe taking place each year. It's also an increasingly popular destination for those looking to try some of the country's best coffee, with artisan roasters and indpendent coffee shops aplenty.
Open since 2012, this specialty coffee shop on Edinburgh's South College Street works to provide Edinburgh with great coffee. With a brew bar offering rotating guest filters and an espresso bar providing classics such as a flat white or latte, this indepent company is passionate about coffe. They're also known for their cold brew selection, including a Nitro Cold Brew available on tap.
A cosy, mismatched interior; friendly environment; and coffee from the cafes own roastery combine to make this a must visit space for great coffee in Edinburgh. With a number of cafes across the city attracting customers on the basis that J.K. Rowling wrote in them, this one makes no such claims: a sign proclaiming "J.K. Rowling never wrote here" hangs next to the door!
2. London
England's capital city houses plenty of places to grab a cup of coffee, but where to go for a truly great espresso?
For truly delicious coffee in London, you can't go far wrong with a brew from Workshop Coffee. Located in a number of venues around the city, you'll find freshly prepared food alongside coffee from their own Roastery.
For good, strong, quality coffee head to Monmouth in either Covent Garden or Borough Market. Using only small, independent suppliers from single farms, estates and cooperatives, the beans are fairly and sustainably produced and roasted to perfection.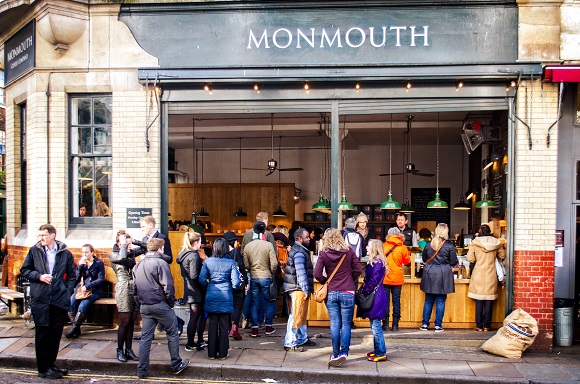 3. The Lake District
Known for its stunning natural scenery and hiking scene, the Lake District is also home to some quietly brilliant coffee shops and roasters.
This coffee roaster in Keswick is renowned for the quality of their coffee, which you can find in a number of cafes around the country. Offering seasonal blends which are roasted fresh each week, it's a coffee lover's dream set in one of the most beautiful areas of the UK.
There's certainly no shortage of cafes in the Lake District, but this one stands out for its cosy atmosphere and delicious coffee. As well as a menu of quality classics from espresso to flat white and long black, there's always a filter coffee on offer from a guest roaster. There's also an awesome all day brunch menu to provide fuel for a day on the fells.
4. Bath
With a coffee menu which features different roasters each week, and co-owned by three time UK Barista Championship winner Maxwell Colonna-Dashwood, this is the place to go for coffee in Bath. Set in minimalistic surroundings, the focus is on the coffee with a selection of cakes on offer for those with a sweet tooth.
With its location overlooking the city's bustling Kingsmead Square, this independent coffee house is a great place to kick back and watch the world go by with a cup of locally roasted, specialty coffee. Beans are from Bath's own Square Root Coffee making for a truly local experience!
5. Sheffield & Leeds
This coffee roaster in Leeds focuses on ethically produced coffee and is a great place to head if you want freshly roasted, fairly produced and delicious coffee beans. Public tastings and events are also held on an ad hoc basis – see their Facebook page for more details.
Set in a former silverworks, this specialty coffee shop is both an Instagram dream and a great place to relax with a flat white and a cronut. Coffee comes from Square Mile in London, while a number of guest roasters also feature.