The website "Spartacus World," dedicated to LGBT travel, has update its index of the most gay-friendly destinations in the world. This is an excellent resource if you've done San Francisco and are looking for your next travel destination.
To establish its Gay Travel Index, the website took a close look at several criteria, from whether gay marriage is legal to how it's perceived in society. There are 14 categories ranging from anti-discrimination registration to religious influence, HIV travel restrictions and how hostile the locals are.
There are many countries where gay travellers are welcome, and others where it's best to avoid venturing… Generally, Europe is a great place for LGBT travellers to explore without encountering any prejudice. Africa is where you'll meet the most disapproval, while being gay in the Middle East could land you in jail. Some countries, like Vietnam, are making real strides. Just recently Vietnam approved same-sex marriage in hopes of attracting gay wedding tourism.
Needless to say, there are differences whether you're travelling in a big city or in smaller, rural destinations. In short, it's safe to say that this  "travel thermometer" isn't perfect, but it's a great guide for choosing a new destination if you're unsure of where to travel next.
10 LEAST gay-friendly destinations
Algeria
Cameroon
Libya
Afghanistan
Jamaica
Russia
Yemen
Saudi Arabia
Iran
Somalia
10 MOST gay-friendly destinations
Sweden
United Kingdom
Belgium
Netherlands
France
Canada
Denmark
Iceland
Norway
Spain
For more information, check out the full Gay Travel Index.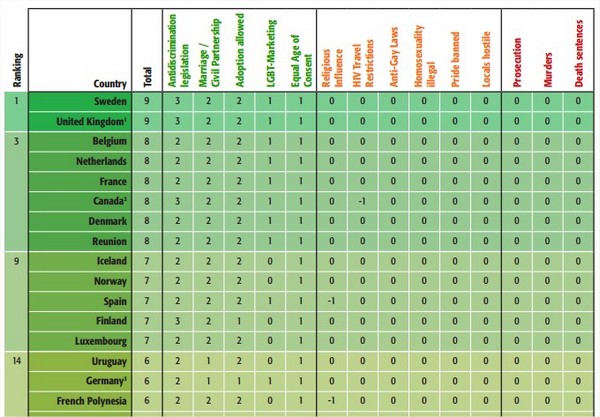 Top 10 gay hotspots, according to Lonely Planet
Copenhagen – Denmark
New Zealand
Toronto – Canada
Palm Springs – California
Sitges – Spain
Berlin – Germany
Skiathos & Mykonos – Greece
New York – USA
Reykjavik – Iceland
Montevideo – Uruguay
Img: William Murphy  / Flickr cc.