Already planning your summer holidays to your favourite beaches? Whether you're taking inspiration from this list of the best beaches in Europe or heading elsewhere, here are a few things to remember when visiting a nudist beach, at home and abroad.
Whether you visit a nudist resort or a nudist beach, there are a few things you need to remember before you drop your trousers and start sunning. Here are some of the most important do's and don'ts of nudist beaches. Love to go au naturel? Share your own tips in the comment section below!
Always keep a towel handy
Many nudist pools and resorts will require you to sit on a towel in any common area for sanitary reasons. That means no sitting bare bum on a bar stool or even on the side of the pool.
Keep your eyes to yourself and no photographs
Just like at bathing suit beaches, you shouldn't gawp at anyone. Everyone has seen it all before, so there's no reason to stare. Plus, nudists know when they're being stared at, so you won't be fooling anyone behind the mirror-tinted sunglasses. Along the same lines, don't ever photograph anyone without their permission. Many resorts may have a 'no camera' rule, so better leave it back at your hotel.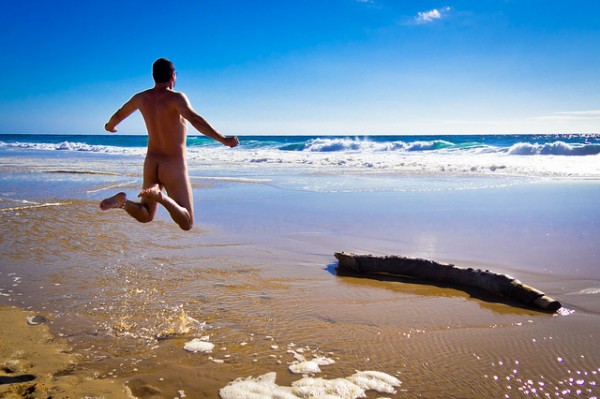 Get a room if you need to
A nudist beach is not the place to get to know your partner better, if you catch our drift. People are at the beach to relax, not watch you and someone else get intimate.
Bring something to do
Pack a book, a deck of cards or something to keep you busy while you're lazing about.
Keep your clothes close at hand
While you may be at a nudist beach, the public facilities may not also be nudist-friendly. Keep your clothes or a beach coverup nearby if you need to use the beach toilets or pop to the nearby cafes.
Have fun!
There's really nothing as liberating as enjoying the warm sun on your bare bottom; it's no wonder babies love it at the beach, being nappy-free! So enjoy the experience.
This may seem like a lot of rules for a simple trip to the beach but it's as simple as remembering your manners. And one last very practical tip? Don't forget the suncream. You'll be revealing sensitive areas that hardly see sunlight, so they're more susceptible to burn. Ladies, apply extra cream to the nipple area!
Imgs: rabodelagartija / Flickr cc.