Local and specialty food makes the perfect (and very delicious) holiday gift but if you're arriving from a non-EU country back to England, you should know that you cannot pack any food items that originate from animal by-products, including cured or smoked meats, cheeses and all those kinds of goodies.
Travelling within the EU
If you're travelling around the EU (including Andorra, Canary Islands, Channel Islands, Isle of Man, Liechtenstein, Norway, San Marino and Switzerland), you don't have to worry about those sausages you stowed away in your checked luggage. You can bring any fruit, vegetables, meat, dairy or other animal products (like fish, eggs and honey) into the UK if you're travelling from a country within the EU.
Travelling outside the EU
You can't bring meat, meat products, milk, dairy products or potatoes into the UK from most* countries outside the EU.
You can however bring up to 2kg of fruit and vegetables (no potatoes!) in the UK as long as they are carried in your personal baggage, are intended for you and your family and friends to consume (not for selling) and are free from pests and diseases.
You can also bring egg products, eggs and honey (up to 2kg) as well as fish (up to 20kg in total, or 1 fish, whichever is the heaviest). The fish must be fresh and gutted, cooked, cured, dried or smoked.
*If you are travelling from the Faroe Islands, Greenland or Iceland, you are allowed a combined weight of up to 10kg per person.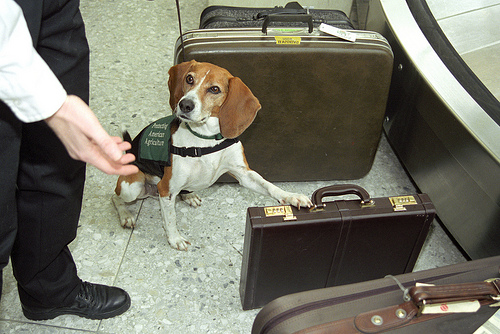 Getting caught with forbidden goods
The rules are pretty easy to follow but if you're caught with meat, dairy products or potatoes in your luggage and you haven't officially declared them, you could face possible fines and prosecution but it's more likely that your items will simply be confiscated upon entry into the country.
Other banned and restricted items
There are restrictions in place for bringing fruit, vegetables, seeds and bulbs into the UK if you are traveling from a country outside the EU. You are not permitted to bring back parts of endangered animals or plants, regardless of where you are travelling from. This includes caviar too, so make sure your container is no larger than 125 grams.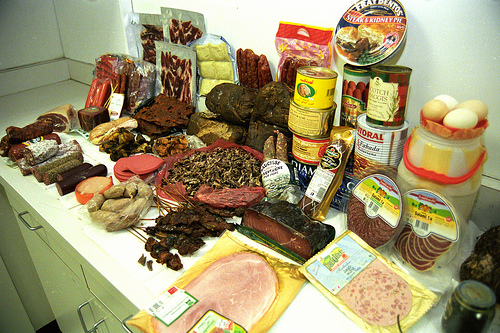 "What can I bring back with me?"
Now that we've covered exactly what you can't bring into the UK with you, what about all the food items that you can bring back with you from your holidays abroad? After all, food items are a great way to share your travel stories and introduce new cultures to your family and friends. Here is a list of all the products that are exempt from the rules:
Bread (excluding sandwiches filled with meat and dairy products)
Cakes, biscuits (but they cannot contain fresh cream)
Chocolate and confectionary (but not burfi, gulab jaman, halva, ras malai, rasgullah, ladoos and chum chum)
Food supplements (including fish oil capsules)
Olives stuffed with fish
Pasta and noodles
So the next time you're catching flights to Rome, don't forget the pasta and sauce to bring home with you, just skip the meatballs and gelato!
For more information and details about bringing food, animals or plants into the UK, visit gov.uk.
Imgs: USDAgov / Flickr cc.