There's a new mayor in office in Spain's second biggest city, Barcelona, and one thing on her agenda is to cap the number of tourists arriving to her seaside city. Could this be the future of tourism? Tourists, take a number and wait your turn.
Cities around the world are dying for tourists, and government councils are racking their brains on how to attract more tourists to their cities, regions and counties. Barcelona, it appears, seems to have had enough of the tourists and would rather they all go home, at least according to the city's newly elected mayor.
Ada Colau, Barcelona's new mayor, has said in recent statements that she wants to introduce a limit on the number of visitors who book flights to Barcelona each year. How she'll do it isn't yet clear. There could be a freeze in hotel construction, or tighter regulations on rental apartments.
In an interview with Spanish newspaper El Pais, she said,
"If we don't want to end up like Venice, we will have to put some kind of limit in Barcelona. We can grow more, but I don't know how much more."
"We may have to put a moratorium in place regarding new hotels and tourist apartments, carry out a census and create a preventive policy before things get out of hand…"
If you've ever visited Barcelona in July and August, you'll have an idea of what she's talking about. You can hardly move along the famous La Rambla due to the sheer amount of people. The Gothic Quarter is as crowded as ever. But there's two sides to every story. Many small businesses, especially family-owned restaurants, have only been able to survive the recession thanks to tourist's dollars, euros and pounds.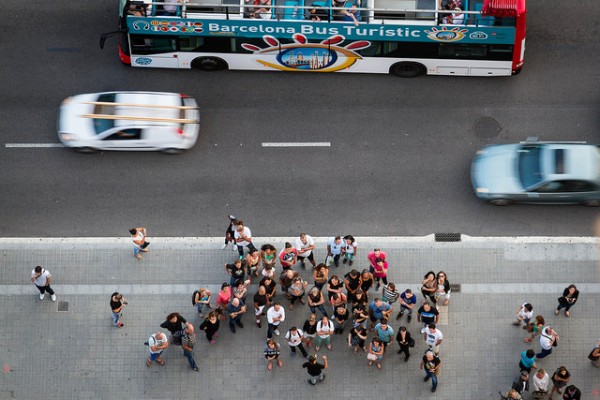 In 2013, Barcelona welcomed a 7.5 million tourists, double what it saw in 2000.
In the summer of 2013, the city started charging tourists entry to Park Güell, Gaudi's whimsical playground, which was previously free. And earlier this year, tourist groups larger than 15 were officially banned from entering La Boqueria, a popular food market off La Rambla so that local residents could shop without being hindered by tourists.
Restricting visitors could come into conflict with the European Union laws on the freedom of movement but if the mayor does succeed in reducing the number of tourists visiting the city, we could see other popular cities like Rome and Venice copying her tactics.
Imgs: jenniferwoodardmaderazo, naxete / Flickr cc.