You don't need to trek across the Sahara or cycle around the world to feel that sense of adventure. The "microadventure" is a totally new kind of adventure, that will have you scaling mountains, sleeping under the stars and hiking cliffy coasts just outside of London. Alastair Humphreys explains.
Alastair Humphreys is a born adventurer. He has undertaken adventures all over the world including a cycle trip around the world. It took him four years to cover 46,000 miles and he managed to do it with a budget of only £6,000. He also ran 150 miles across the Sahara Desert in a week, rowed his way across the Atlantic and skied across ice caps in Greenland.
But his latest adventures have seen him exploring places a lot closer to home. He's calling them "microadventures" and we're huge fans of the idea.
"Microadventures are my attempt to try to help normal people in the real world get the enjoyment out of adventures that I've had over many years. I wanted to get the essence of adventure, the wilderness, the challenge, the escape from urban life, all these things that are really important to me, and condense them down into something small and achievable for normal people with real lives."
"You can escape — if only for one night — and find nature, wilderness, a bit of peace and then go back to your normal life with a slightly shifted perspective."
He's calling it the 5 to 9 challenge, to inspire London's desk slaves to leave work at 5, run for the train and find the top of a hill to sleep on and be back at the desk again for 9am. After all, you don't need to book flights to Kenya to go on an adventure! There's surprisingly a lot of wilderness within a 40-minute train ride from the capital so let's get out and explore it! The best part is, you don't need much kit to do it.
What to pack for a microadventure
If you're just looking to escape the city and sleep out in the wild, this is what you'll need (and it can all fit into a rucksack):
Sleeping bag (if you don't think it'll be warm enough, just pack more jumpers and layers)
Sleeping mat
Bivvy bag (to keep you dry and warm, it's like a big waterproof bag that goes over your sleeping bag and up and over your head to keep you dry, warm and protects your sleeping bag)
Wooly hat (even in summer)
Waterproof clothes
Warm clothes
Torch or headlamp
Toothbrush (Alastair's top tip: put toothpaste on your toothbrush at home and just wrap it up with cling film)
Toilet paper
Food and water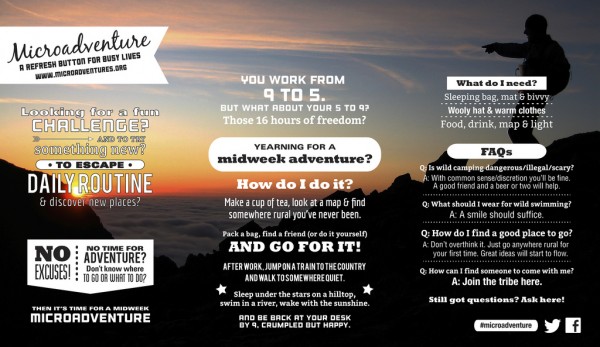 Make sure you read up on our own Top tips for wild camping in England. And let your microadventure begin! If you want to get more tips and trip inspiration where to go for your microadenture, check out Alastair Humphreys website.
Img: tomtolkien / Flickr cc.