Do you travel with a black standard suitcase that zippers, expands, has a handle and wheels? You, like the millions of other travellers in the world, are the most likely to NOT spot your luggage as it rolls past on the luggage belt at the airport.
Your suitcase IS the most likely to be mistaken for someone else's, leaving you with a suitcase of frilly panties instead of the suits you need for your business trip. Here are 5 quirky gadgets that will definitely make your standard suitcase stand out from the crowd.
Suitsuit



Check out the range in fashionable suitcase covers from this new and innovative company. They transform dull, hard cased luggage into something different and especially recognizable. The covers are washable, lightweight and foldable, also protecting your luggage against dirt and scratches. (€35, suitsuit.com)
Cheeky Suitcase Stickers


Why go conservative, when you can go cheeky? This Canadian company offers a little edgy zest to the usual case stickers, ensuring you'll be able to spot them on the luggage belt. Fair warning though, some of them may offend immigration and airport security staff, so attach to suitcases at your own risk. ($15, size: 16" x 12", thecheeky.com)
Teasing Tags


Unbelievably playful, these tags are sure to get a second glance from either airport security and the luggage handlers. On the other hand, if you get the wrong security agent, you might be held up for a while, so that they can actually rifle through your underwear. Note the "Please don't lose my luggage" bit on the address side, nice touch. ($1.98, target.com)
X-Ray Travel Bag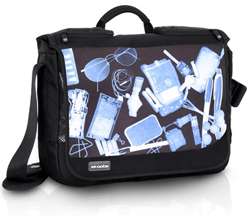 Not a suitcase, but it will get you through the security lines sooner. This X-Ray back designed by Skooba is ingenious, and TSA approved for all the American travellers reading. It's due to hit shelves this fall, so keep your eyes open for it. (skoobadesign.com)
Handmade British luggage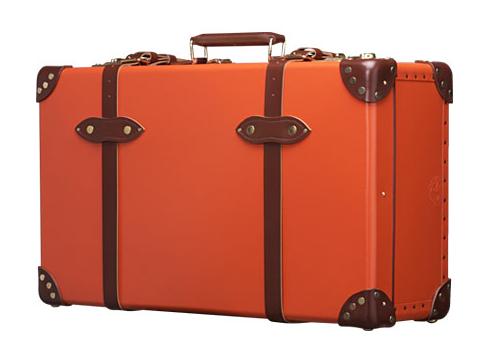 If disguising your standard black bag is too much hassle you can always get a new set of suitcases. If money is a matter, then check out the new handmade luggage from Globe Trotter, it's almost certain no one with have the same on your flight. The case style hasn't changed for 100 years, they're lightweight, functional and totally aesthetic. Stepping back in time isn't always a bad thing, especially when it comes to these classic cases. (£2.5-615, globe-trotterltd.com)

Having a glam and totally eye-catching suitcase is not enough though, you need somewhere to go with it too, right? Search for cheap last minute flights on liligo.com, and show your new case off at the airport!
What do you do to your suitcases to make them stand out on the luggage belt?
Img: heather / Flickr cc.