The United Nations University has published its annual report on the possible risks for countries most affected by climate change.
World leaders are no strangers to the issues of climate change. Just take a look at what French president Jacques Chirac said already seven years ago in response to another UN report on the issue,
Soon will come a day when climate change escapes all control. We are on the verge of the irreversible.
Faced with this emergency, the time is not for half-measures. The time is for a revolution: a revolution of our awareness, a revolution of the economy, a revolution of political action.
Some countries are more fragile and susceptible to the risks of climate change than others, the UN has made that very clear in their latest World Risk Report.
Coastal cities and islands will the hardest hit in the future, as sea levels continue to rise around the world. Hundreds of millions of people will be directly effected. The tourism industry is also playing its part in the problem, check out this round-up of the world's most ethical destinations of 2015.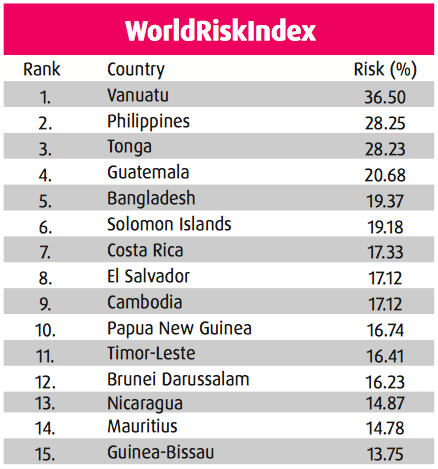 Check out the full World Risk Report 2014.