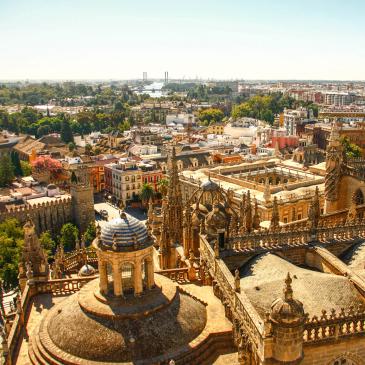 What to do in Seville?
Spring is such a sweet month in Spain. While the winters are hardly anything to complain about, the springtime signals that summer is just around the corner. Springtime festivals pop up all over the country but if you're looking for a city with equal parts personality and looks, then Seville is just the ticket. April brings with it the city's biggest festival and celebration, the Feria de Abril, which celebrates the city's flamenco roots more than anything else.
Start your trip here a bit earlier, in order to catch the Semana Santa processions and watch the city's tone go from grieving to celebratory! It's intoxicating as the city's orange and jasmine trees blossom and the streets are filled with ladies in brightly coloured polka-dot flamenco dresses. Catch the parades around the fairground and take in all the city sights: from the Alcázar to the Catedral and Giralda, from the Parque de María Luisa to the Baños Árabes, where you can enjoy a traditional hammam experience. A pot of mint tea on the terrace of your hotel in Sevilla is just the way to end your day.
Weather expected
18°C
Spring is arguably the best time to visit Southern Spain, with delightfully warm and sunny days, the ideal for city sightseeing.