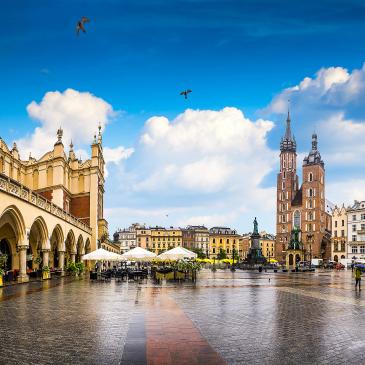 What to do in Krakow?
As far a cheap city breaks go, you can never go wrong if you head east. Eastern and Central Europe offer up some pretty incredible cities that are easily explored in a long weekend. For medieval charm and a brilliant nightlife scene, Krakow ticks all the boxes for city break on a budget. The city's atmosphere is nothing short of mythical; legend has it the city was founded after the defeat of a dragon!
First stop for any trip to Krakow is the Old Town where you're bound to run into Rynek Główny, the biggest market square in Europe. Wawel Castle is a must by day. By night, there's no livelier place in this cultural town than its western quarter for restaurants, bars and clubs filled to the brim with students and expats. Late-spring is the ideal time to visit this part of Poland, before the masses of tourists arrive in summer and when the students are still in town.
Weather expected
14°C
Spring and autumn are by far the best times of the year to visit, when you can avoid the snow of winter and the smog of summer. You'll still need a warm jacket at this time of the year, for the cool evenings.