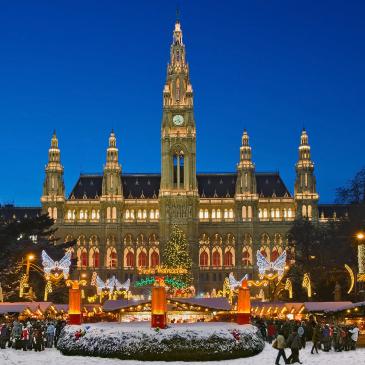 What to do in Vienna?
Embrace the magic of winter once December arrives. There are only a few weeks to enjoy the charms of the Christmas season and we can't think of anywhere better to get into the festive spirit than in Vienna. This city is packed with imperial history and the cosiest coffee houses. Vienna's prettiest squares are transformed into magical Christmas markets by mid-November. All you have to do is follow the smell of cinnamon-flavoured baked goods and the spice of hot punch. Rathausplatz is the biggest market in the city, with 150 stalls selling everything from sweets to tree decorations. The most romantic market is the one in front of Schönbrunn Palace, so if you're bringing your sweetheart along, this one's a must.
When you're not exploring the markets, Vienna's historic buildings, museums and sights will certainly keep you busy. The Leopold Museum, and the MUMOK next door, are ace for getting your art fix, while the Burgtheater is our pick for everything from Shakespeare to Woody Allen. If it's a classical Viennese experience you're after, you won't find it difficult to track down a Beethoven, Schubert, or Brahms concert on.
Weather expected
4°C
As you might expect, Vienna in December is a cold affair, with the possibility of frost, ice on the pavement and also snow. Pack accordingly!