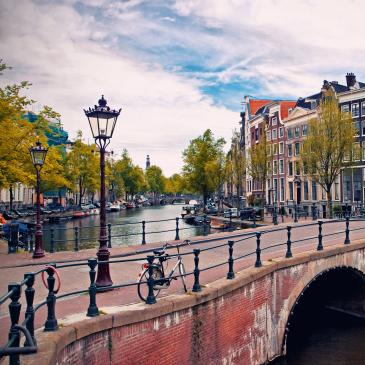 What to do in Amsterdam?
If you're looking for a city break to get you through till the Christmas holidays, a trip to Amsterdam is the perfect treat. While the Dutch capital's peak season is in spring when the tulips bloom, there is a lot to be said for a trip in autumn, when the days are crisp and sunny; and there's always the possibility of an Indian summer.
If it's your first time in this charming 17th century city, then there are a few things you'll just have to do. Rent a bike for a day and just cycle around, visiting a market or a museum like the Stedelijk or the Rijksmuseum, criss-crossing over canals and through Vondelpark, then stopping for a coffee now and again to catch your breath. Of course, the city's brown cafes will surely tempt many visitors! However you spend your days in Amsterdam, you won't be able to resist its charming character and laid-back feel, nor the quaint Amsterdam hotels along the canals.
Weather expected
15°C
Amsterdam is an easy city to visit year-round but autumn is a pleasant time, after the tourist crowds of the summer have all gone home. It can get rainy in October, so best pack your brolly and raincoat.