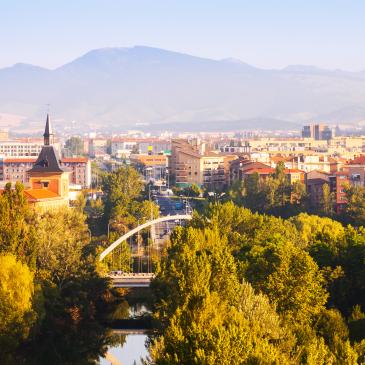 What to do in Pamplona?
With summer in full swing, most travellers will be headed to the Spanish coast but if you're looking for a truly Spanish cultural experience, you'll want to head inland, to Pamplona for the legendary festival of San Fermin and Bull Run. It's eight days of mayhem, parties and of course the spectacle of watching hundreds running through the city's tiny cobbled streets being chased by angry bulls. It's thrilling and completely unforgettable!
Before you go, you'd best sit down to read Ernest Hemingway romantic tale of what you're about to experience. Pack your red and white Basque outfit and get ready for one of the most exciting weeks of your summer. The run begins at Corrales del Gas and only takes 3 minutes… probably the longest you'll ever experience! The dodgiest places on the run are Estafeta and the narrow entrance into the Plaza del Toros. If you do plan to run, best to scope out the route in advance and plan your places of escape if need be. Will you be joining the troops in the 800m-dash with six raging bulls at your backside?
Weather expected
25°C
Don't get us wrong, July in Spain is a scorcher, even more so when you spend your days in the city. Do as the Spaniards do: do your sightseeing in the cooler mornings and then enjoy a siesta in the afternoon, the hottest time of the day.